Purchase Ledger
Purchase Ledger (Accounts Payable) is used to record your Supplier details and post transactions such as invoices and credits in any currency. Payments can be made and allocated to invoices taking account of currency exchange differences and discounts if appropriate. Invalid payments are easily reversed. Free format notes may be recorded for each supplier and transaction. Reports include Aged Debt List, Supplier list and labels.
BENEFITS
Invoices matched easily with Goods Received Notes
Full Audit Trail - All transactions maintained
Multicurrency
Easy allocation of cash
Exchange rates recorded at time of transaction-more accuracy
Reports easily produced on effective dated basis
Reports easily exported to spreadsheet
Instant views of Supplier transactions and Aged debt
All transactions are automatically posted to relevant Nominal Ledger account
No reworking of transactions from other ledgers
Easy to reverse mispostings
Periods held open until any issues resolved
Journal transactions
Ageing can be viewed at a glance
All transactions can be expanded to see full transaction details
FEATURES
Effective dated reporting
Multicurrency
Suppliers can searched for by Name, account number, postcode or telephone number
Aged Credit Report
Exchange differences recognised
Effective dated reporting
All transaction maintained indefinitely
Discounts can be configured for early payments
Remittances easily reversed
User definable colour coding
Goods Received(GRN) matching
Automatically generated payment list
Remittances can be automatically faxed, emailed or printed.
All reports are exportable to MS Excel
Unlimited notes can be stored against supplier account
Automatic cheque printing
Matched and Unmatched GRN reports
Transaction types available - Purchase Invoice, Purchase Credit, Journal Credit , Journal Debit, Debit Note.
Screen Shot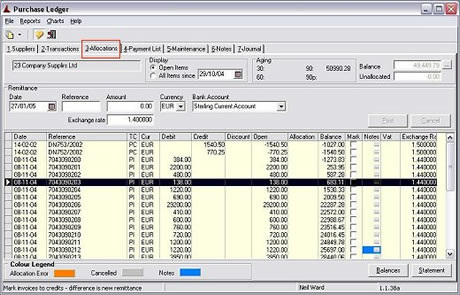 Purchase Ledger module in the allocations screen