Purchasing
Purchase Order Supplier information and to set up and progress Purchase Orders. It is completely integrated with the Sales Order and Stock modules and uses the same Shopping list principle as Sales Orders. Full history is provided. Purchase Order Management is an upgrade to the purchasing side of the system and is tool for effectively mangeing your stock levels whilst taking into acount other factors such as buffer levels. See Purchase Order Management for further details.
BENEFITS
Linked to sales, saves effort in re-keying.
Saves time and effort in document handling and storage.
Real time data ensures orders are placed correctly.
Buying staff are productive and happier using latest technology.
Place orders 'instantly' by email or fax.
Amendments are easy to make and audited.
Multicurrency is transparent.
Colour coding identifies best suppliers.
Seamless movement of orders to Goods In (Receipts).
FEATURES
Scheduled Orders.
Easy creation from Back to Back Sales Orders.
Multicurrency-variable Exchange rates.
Exchange Rate Differences recognised.
Supervisor control.
Search by Part number or classification.
Full supplier/part history available.
Variable shipping methods for second and subsequent drops.
Amendments handled easily with full audit trail.
Documents can be printed, faxed or emailed.
ABC Supplier rating.
All reports are exportable in MS Excel
Import Shopping list by Spreadsheet.
No limit on lines per order.
Comprehensive reporting.
Record details of Offers.
Automatic Allocation of PO items to SO's.
Agency Orders.
Free Text on Orders.
Standard Text on Orders.
Use Supplier part numbers.
Order items.
BC/CECC.
Carriage spreading to dissolve the cost of shipping across the cost of the goods
Alternative delivery and invoice addresses can be defined
Unlimited Suppliers
Unlimited contacts against the supplier
User definable postings to the nominal ledger
PO forecast report
Screen Shots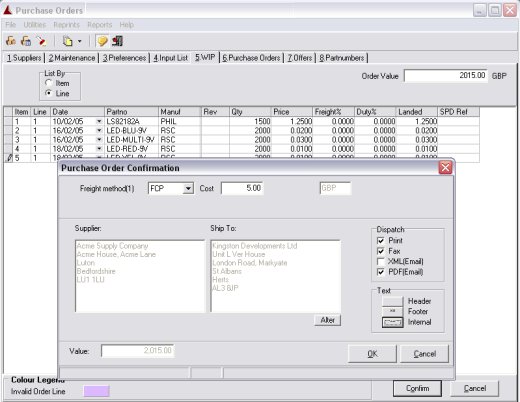 Purchase order entry conformation screen